Behind the scenes at Formula Drift Indonesia
We got to the track in the morning and all the competitors were setting up their pit areas and putting the final touches on there cars.  It was great to see many of the big names from round 1 in Singapore make it to this round with their own cars. If you recall Daigo's Altezza from round 1, you will notice he is running with a new sponsor this time, Achillies tire.  Still a great looking and incredibly well setup car.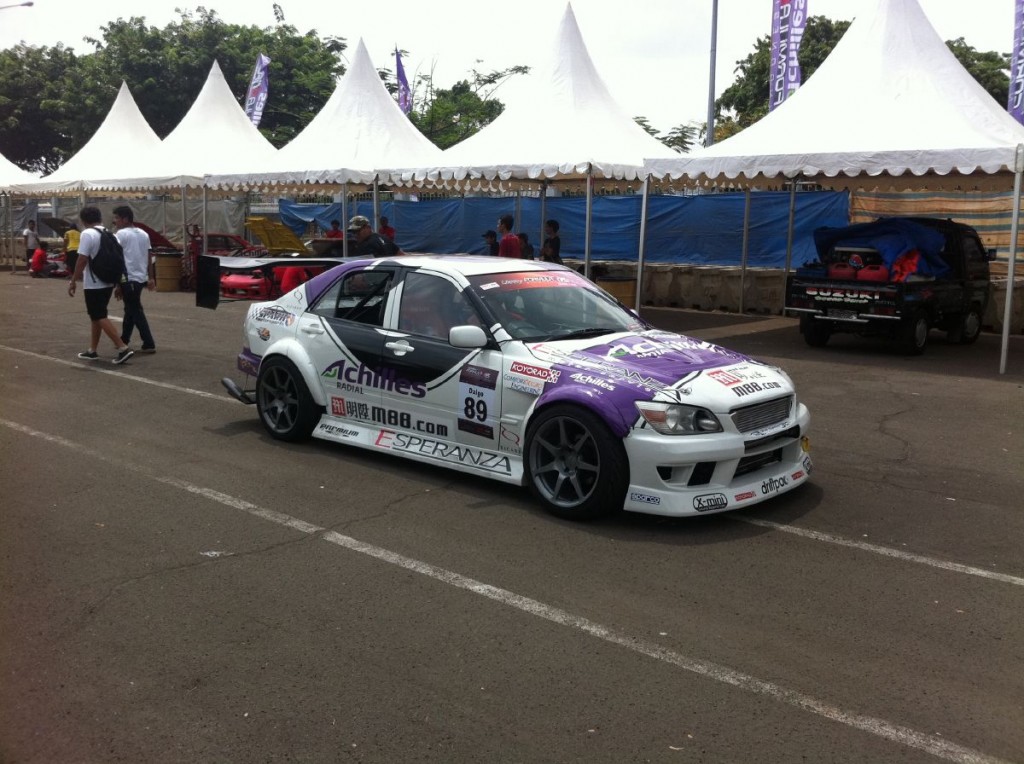 Ken Gushi has been lucky enough to score this infamous RS-R Supra mae famous by Japanese driver Orido.  I think this is the coolest car here, even more than Daigo's. It sounds great, looks amazing and has a very cool history.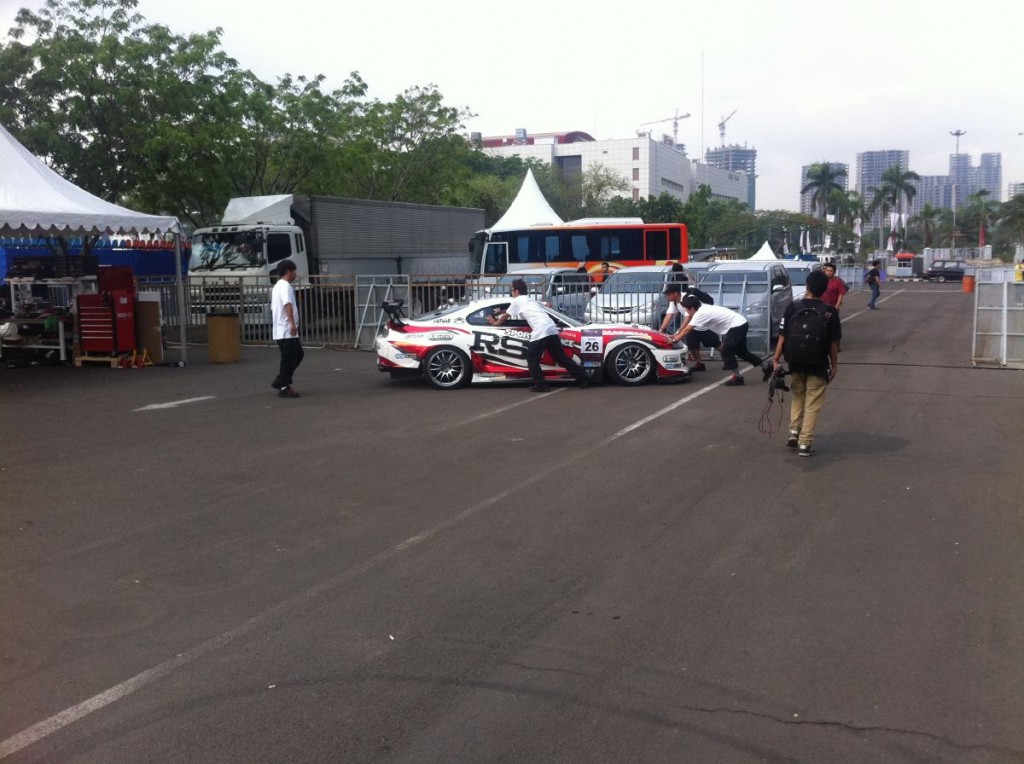 Thailands 2 big teams turned up in full force.  The Red Bull team and the M-150 team are fierce rivals, and I'm sure we'll see some firey battles between them if they happen to meet on Sunday.  I really like this FD RX-7, exactly how a pro drift FD should look and sound!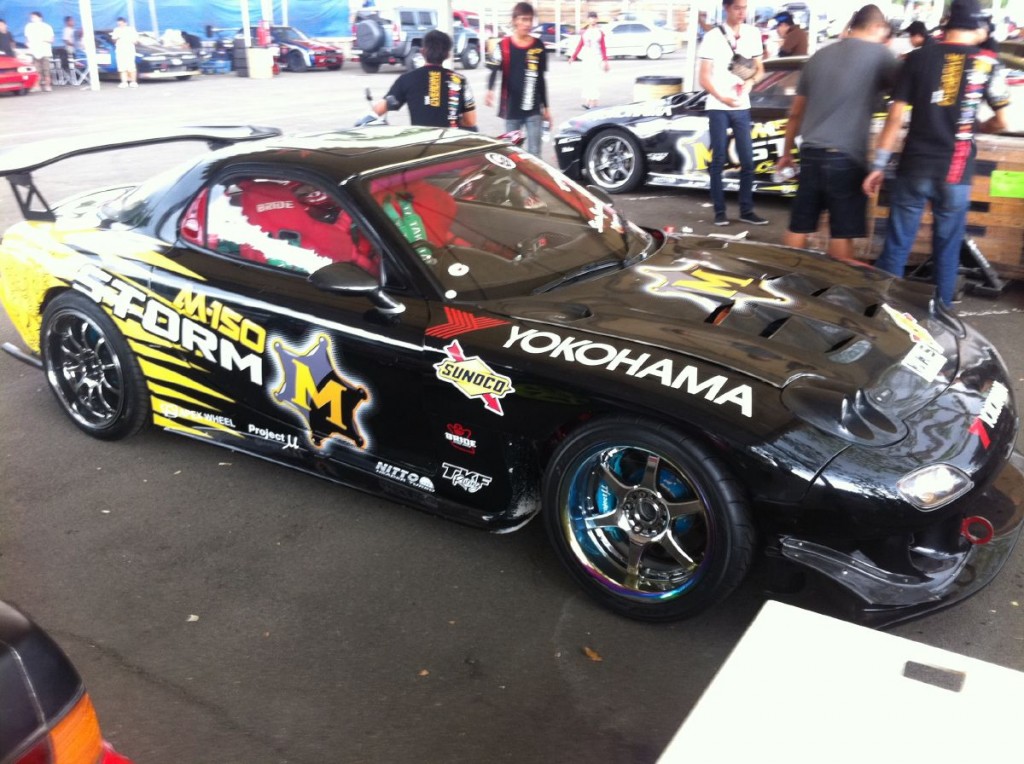 The most exciting part of my day was the fact I was invited to the press conference with 7 other big names of the series!  Daigo Saito, Ken Gushi, Robbie Nishida, Saranon, Amandio, Kiki Sak Nana also judge Daijiro Yoshihara was there to explain the judges perspective.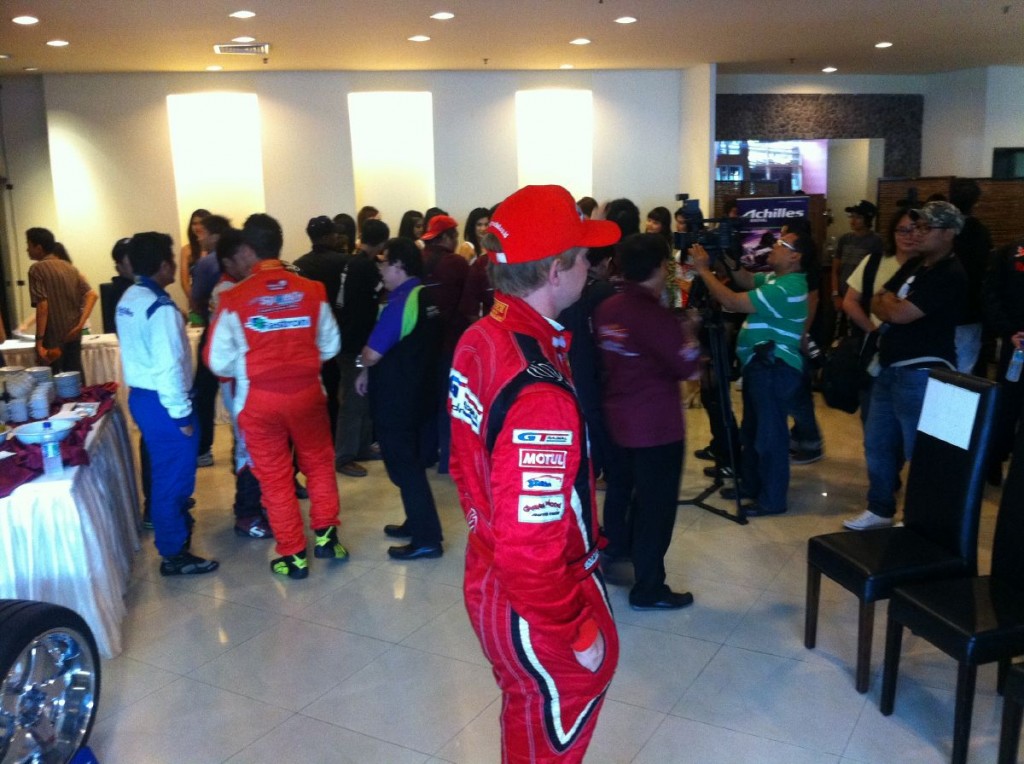 This was everyone milling around before the conference started, there were cameras everywhere!  Where ever I looked they were pointing at us, one of the other drives Renaldi made the comment, "It's like we're at the zoo and we're the animals!'.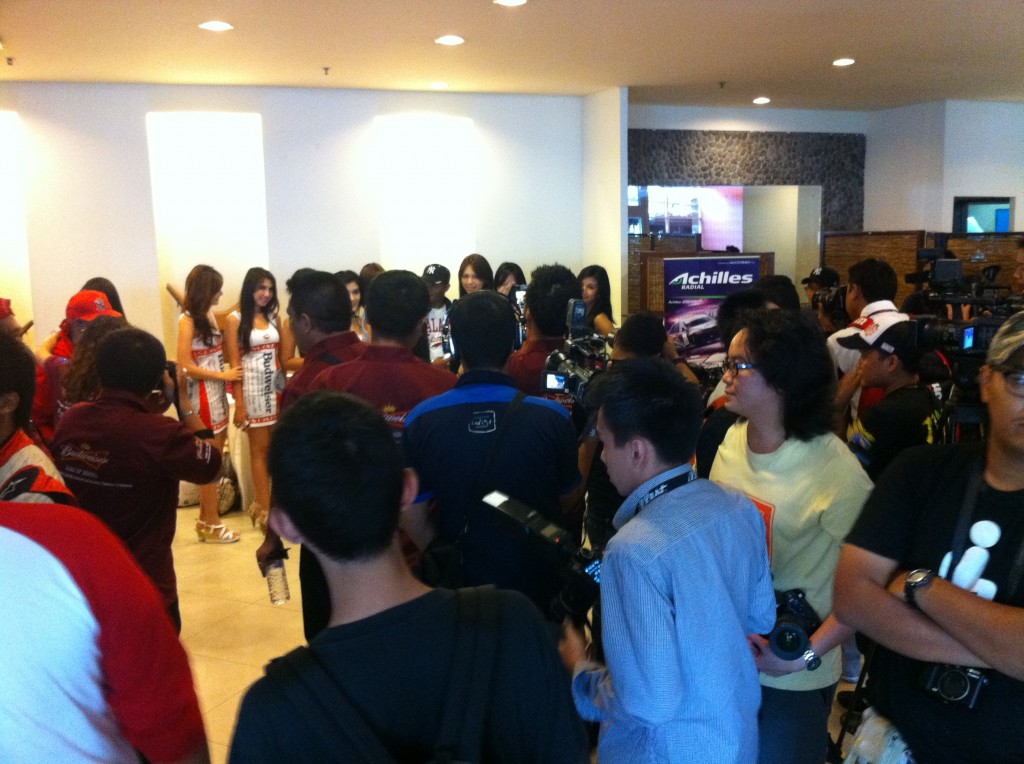 This guy was pumping up the crowd, we were told he was a big name rapper from the States – Keith Martin?  Was funny to watch anyway!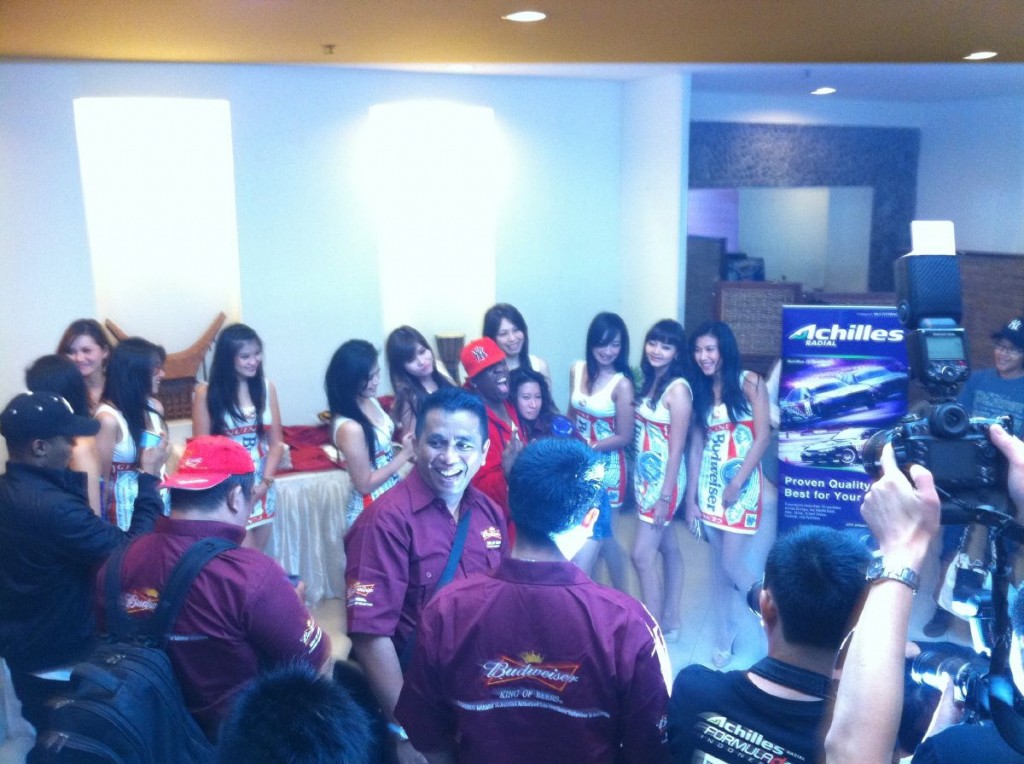 So it was time to take a seat and I was next to Ken Gushi, Daigo was beside him and then Robbie further along (sorry about the poor quality photo, but I had to be quick!)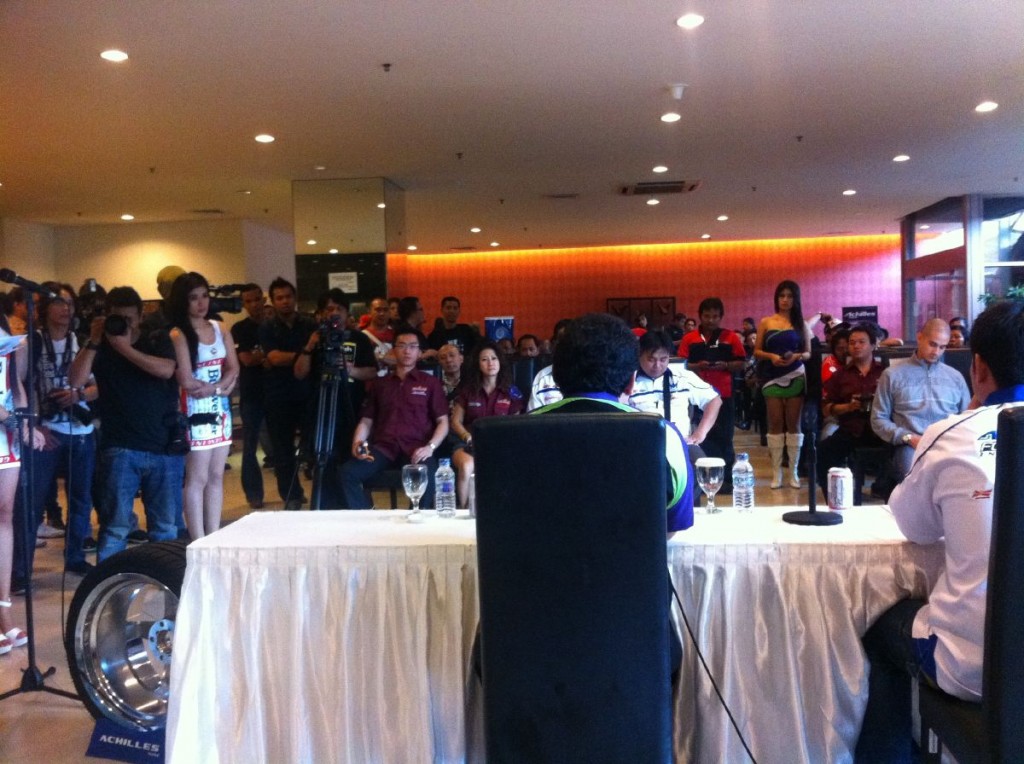 They were mucking around the whole time, when Daigo stood up to speak, Ken put his water bottle on his seat so when he sat down he nearly fell off! Then when Ken stood up, Daigo went one further and put an open bottle with water in it so when Ken sat down he nearly slipped off and had a wet seat!  It was impossible to keep a straight face!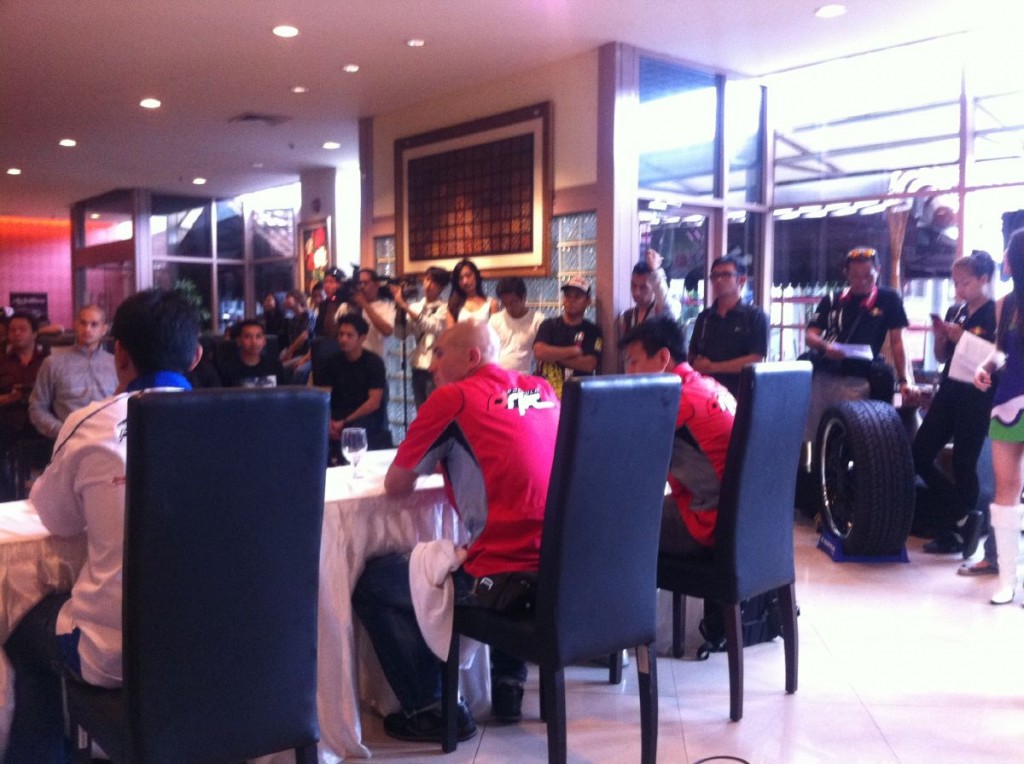 The first question was asked about the track and the surface, they didn't mind who answered, but Ryan Sage turned around and said, 'JB! you take this one.' a little bit daunting, but I think I did ok with the answer.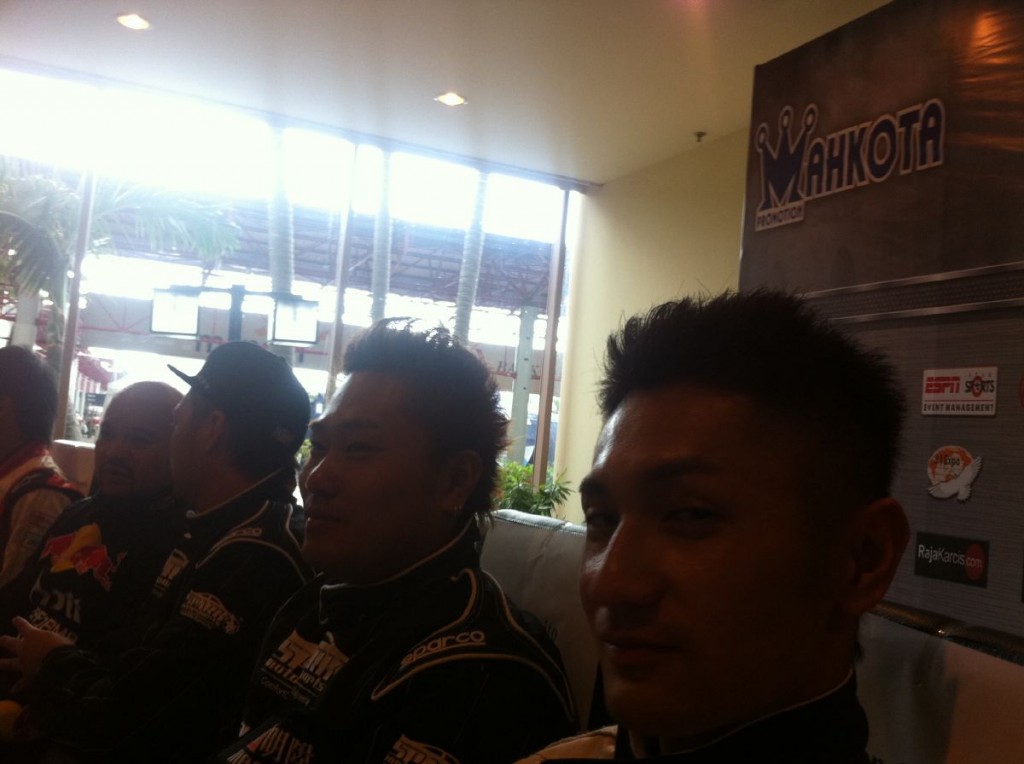 After conference we had the press photo, as you can see, the media attention for motorsports here in Indonesia is incredible!  I've never seen anything like it!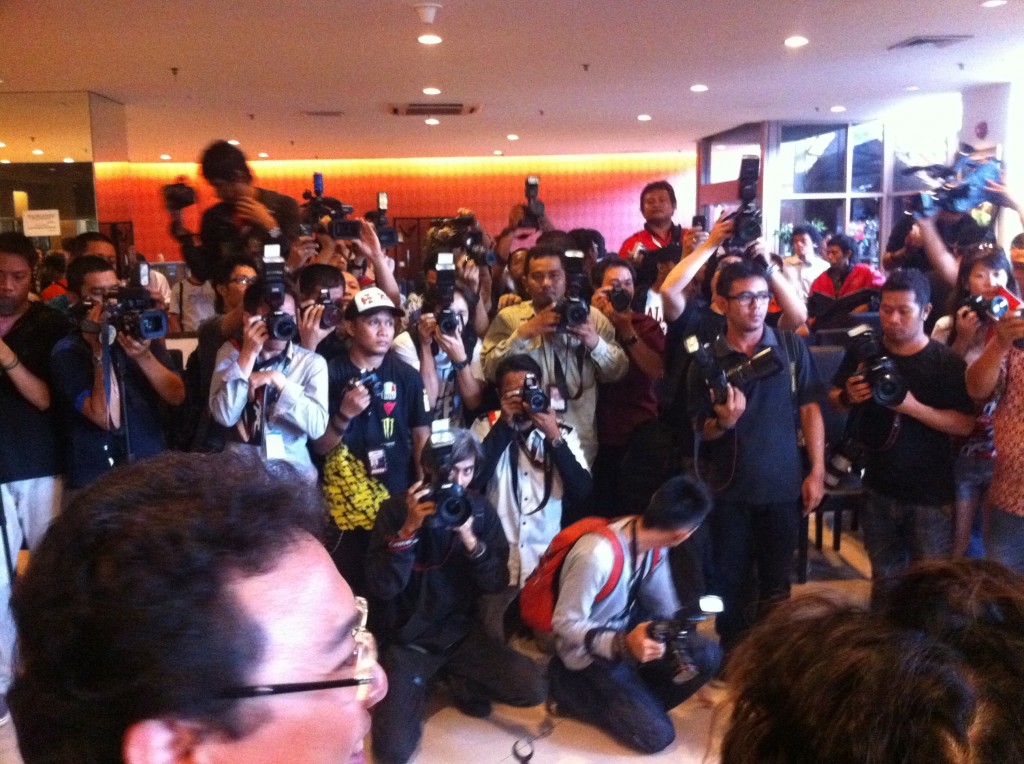 Later on we had the drivers briefing, where they explained the track and the line we will be taking, what they are looking for exactly and where the points will be earned and lost, they leave nothing out, so you know exactly what you need to do to get a good score.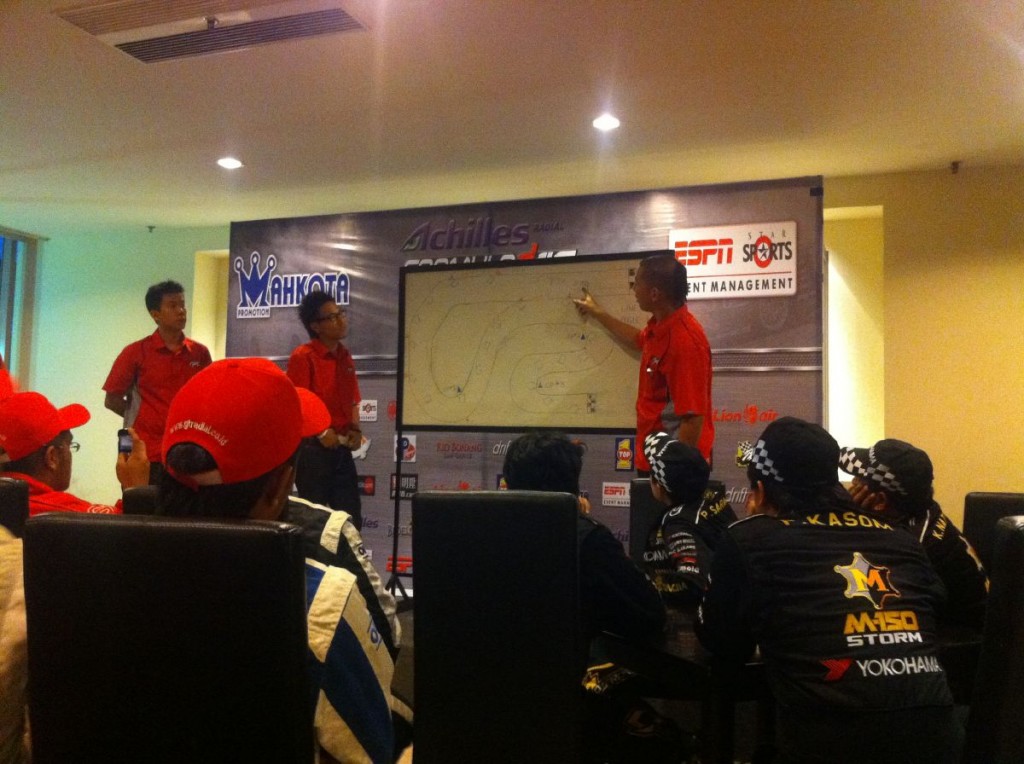 Today, the number one goal is to crack the top 32. I'll let you know how it goes!