3rd Place Overall in Formula Drift Asia Championship!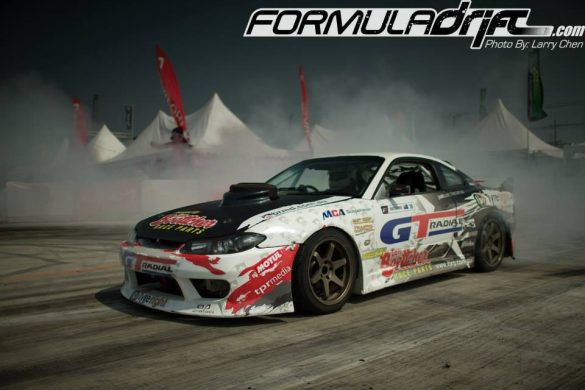 We have just returned from Thailand after a tough final round of the 2013 Formula Drift Asia championship.  It was only the second event with the new 434ci V8 engine in the GT Radial S15.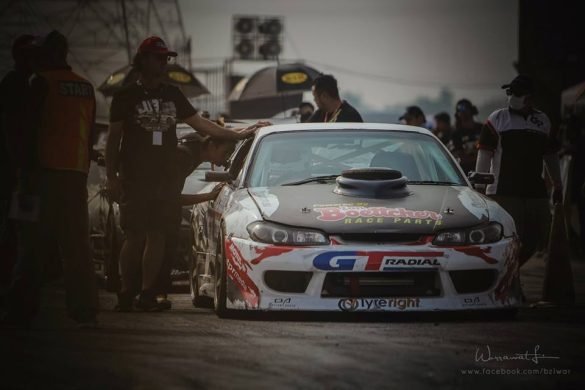 We came into the event in 3rd place in the championship, and were determined to go for the series win or at least not to let go of a podium championship finish.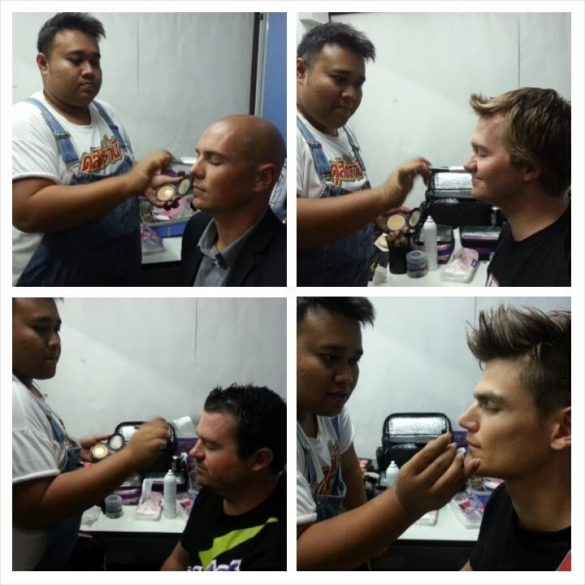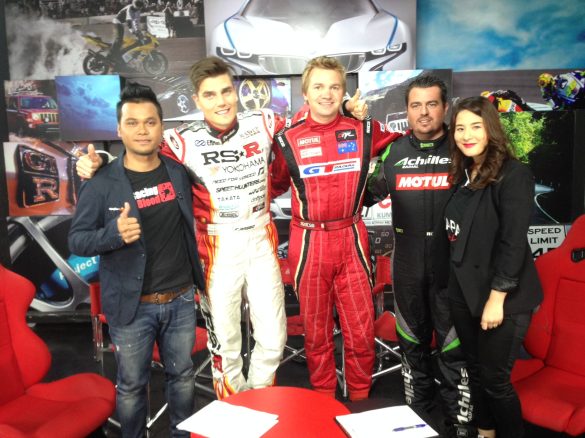 First stop for us was a LIVE TV INTERVIEW! This is the first time I've been in a TV studio beaming out LIVE!  Norwegian Fredric Aasbo, fellow Aussie Rob Whyte and myself were broadcast across Thailand and over GT Channel's live web stream as well.  I even had make up put on for the first time ever!  Can't say the same for Rob though.. 😉  Thanks to GT Channel for the opportunity, it was a great experience and lots of fun!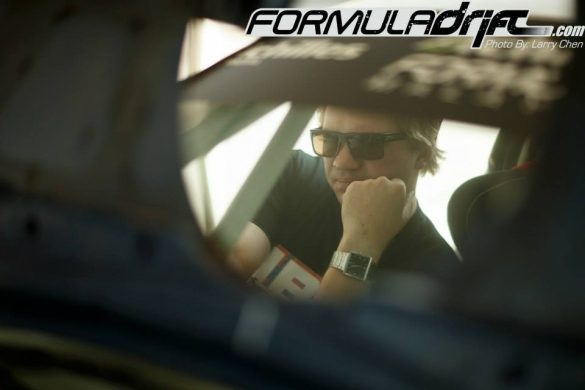 Unfortunately we didn't have the greatest start to the racing weekend.  For the last 4 months the GT Radial S15 has been waiting overseas after a postponed event. And sadly, it had not been stored or cared for the way we requested.  It had been left outside while in Malaysia and after some checks, the new 850hp engine had taken on water.  I was shattered, my whole team and family couldn't believe it.  This brand new, perfect, amazing engine could be completely ruined without even racing the car.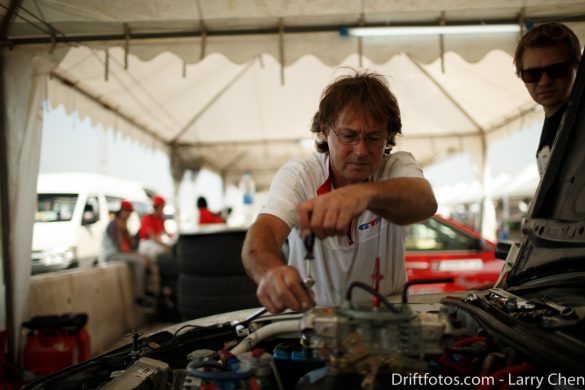 I called my Grandfather, Ian Boettcher, owner of Ian Boettcher Race Parts, the supplier of and the reason we have this amazing engine in the car.  After some serious discussion, some very tough decisions were made. So now it was time for my incredibly skilled and knowledgeable mechanic, Gavin Wood to set to work to clear out the engine to see if it would still run.  With some luck, and an amazing effort from Gav, IT DID!  The engine started and ran ok, but we are yet to see exactly the severity of the damage inside the engine.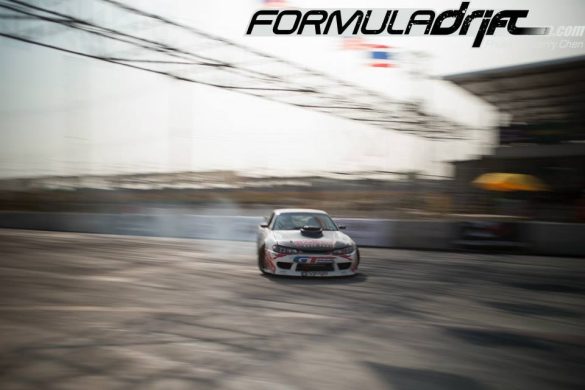 So on Friday afternoon, we were able to head out for practise on the tricky technical Pathum Thani circuit in Bangkok. The engine was running better than expected, but still needed constant checking.  Through Friday night and Saturday morning practise we dialled the car in and started to get the line down pat and started to push harder.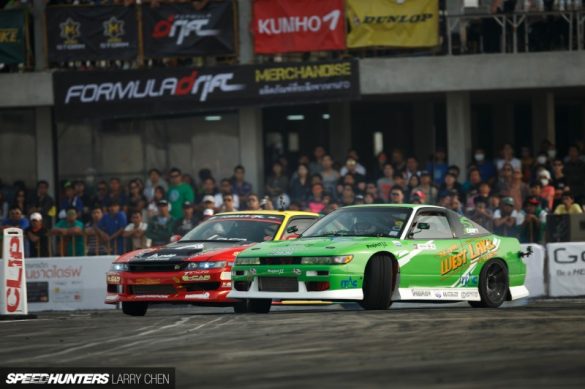 One thing I have seen over the years and got to see first hand here, is the drifting talent in Thailand is strong!  The Thailand event had the biggest number of competitors this season with 42 drivers fighting for 32 spots in Sunday's battles.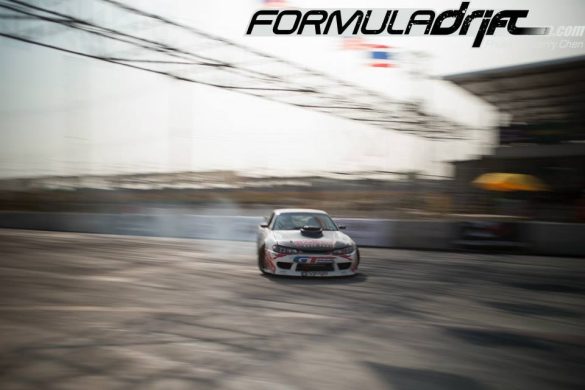 In what seemed to be no time at all it was time for qualifying.  There were 32 spots up for grabs, with the top 16 being locked in after 1 lap and the bottom 16 getting a second chance to fight it out for the remaining spots. So naturally, we were planning to lock in a top 16 spot after only 1 run!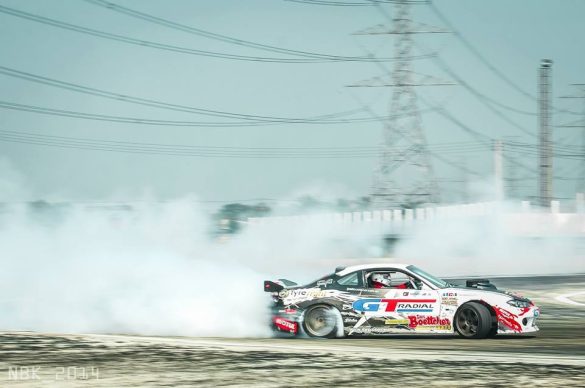 It was my turn to head out and I played it fairly safe and laid down a strong run only wavering a little from one clipping point.  We scored a 73 and were confident of a top 16 spot, but not sure where in there we'd end up.  Once the dust had settled, we'd locked in 8th spot!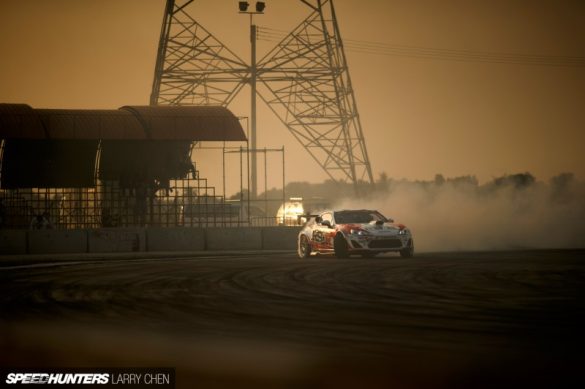 After a good local Thai dinner and a good night's rest we headed back to the track for race day at FD Bangkok.  It was all to play for at the start of the day, with the top qualifying spot being taken by the driver in 4th in the championship, Fredric Aasbo from Norway.  Fredric competes all over the world and with the support of the huge RSR team here in Asia, he was looking very strong.  We were ready to fight for that 3rd place or better in the series.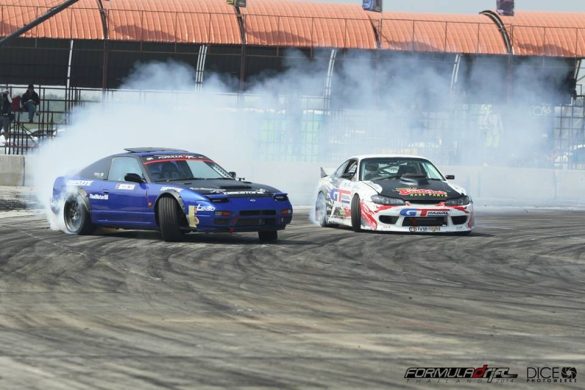 In the top 32 we faced local driver, Nakorn Cotraviwat in his 2JZ 180SX.  After a strong lead run where Nakorn spun out, we chased hard, but smart and cemented a spot in the top 16.  Then it was time for the Top 16 driver parade, it's always fun in front of such a big crowd of excited fans!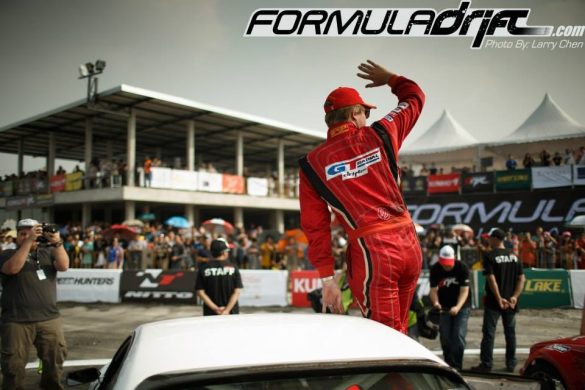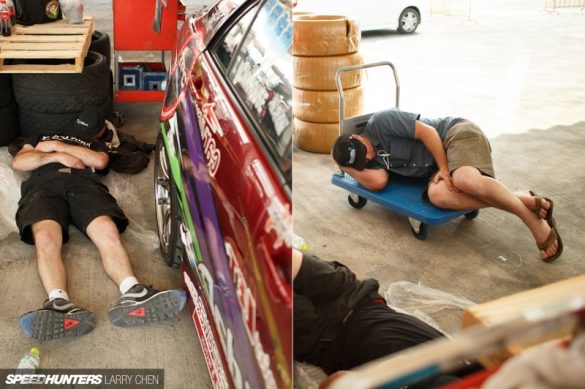 After the top 32, Fredric (4th in championsip), Daigo Saito (1st) and myself (3rd) had made the top 16. Tom Monkhouse (2nd) had mechanical dramas in the top 32 and didn't make it through, which left 3 of us fighting for the series.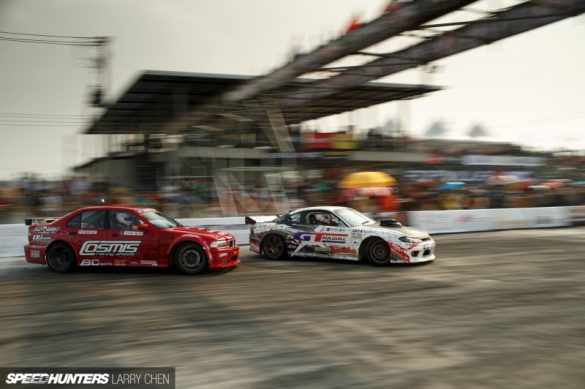 In the top 16 I came up against popular local Thai driver, Ju, in his 700hp BMW.  I was leading first and took off for the run.  I threw the GT Radial S15 into the first corner a little to early and clipped the inside marker, but didn't let this bother me and proceeded to run a tidy rest of the lap pulling a gap on Ju.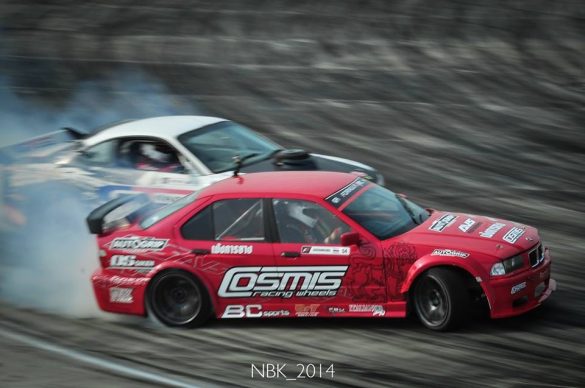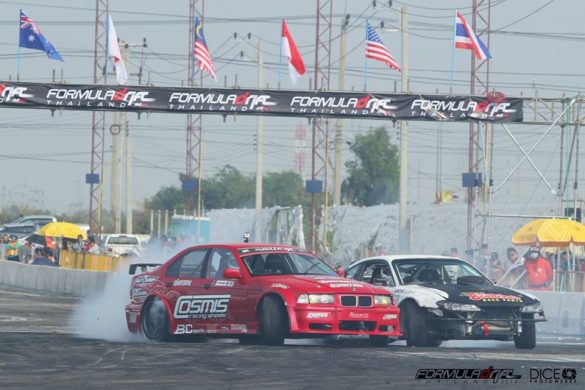 On the follow run, I knew hitting the marker would be a deduction, so I chased super hard.  I pulled right up on his door and stayed there for the whole run.  I was confident the strong chase would be enough to make up for the marker in the first run.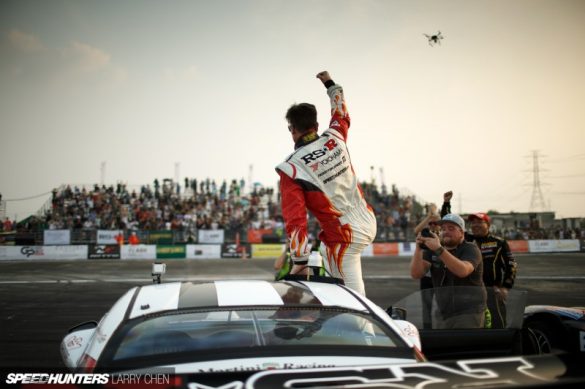 After a long wait, the decision came through, Ju took the win and went on to battle Fredric in the top 8.  Our day on track ended there taking 9th place, but we weren't sure how the points had finished up and our position in the championship. Fredric went on to win the round with local Thai drivers taking 2nd and 3rd after some tough battles.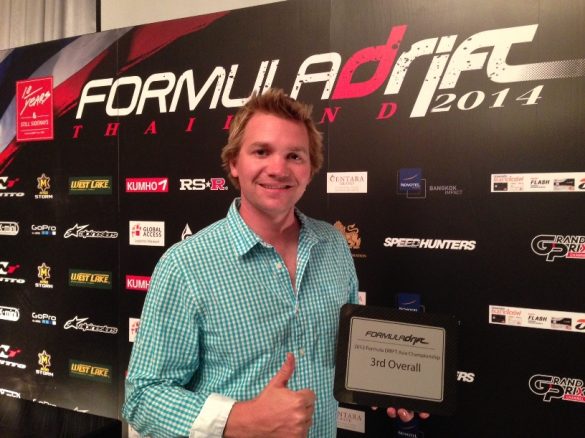 Later that night we'd find out the official finishing positions for the 2013 championship.  With our 9th place finish we did it! We took 3rd place in the 2013 Formula Drift Asia championship!!!!!  With world class drivers, Daigo Saito in 1st and Fredric Aasbo in 2nd, our team have done an amazing job! This makes me the first ever Australian to finish on the Podium both in a Formula Drift event and in a Formula Drift Championship series!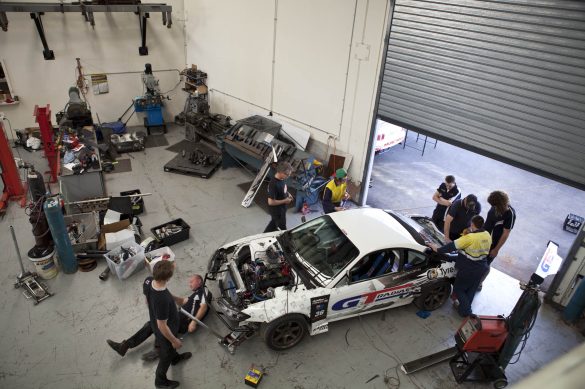 To re-build a car mid season and still take a podium in the series is an awesome achievement, especially at this world class level!!  A massive thank you to my sponsors and my team, there's no way this could be possible without such hard work and dedication from everyone that has helped this season.  It's been a huge effort, but all worth it with such a great result!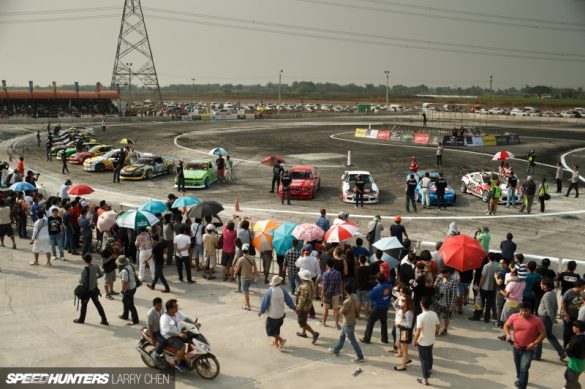 Now the kicker here is that this round also doubles as the first round of the 2014 Formula Drift Asia series!  The next round of Formula Drift Asia is in July in a whole new country.  So once we have the car back in Australia, we will start planning our attack on the birthplace of drifting, JAPAN!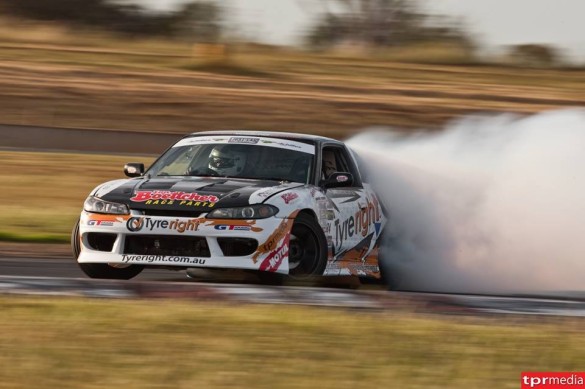 Next event is Australian Drifting Grand Prix round 3 this weekend in Sydney at Sydney Motorsport Park.  Can't wait to get back in the Tyreright – GT Radial S1580 and give it heaps on Aussie soil!
More soon, but until then, STAY SIDEWAYS!